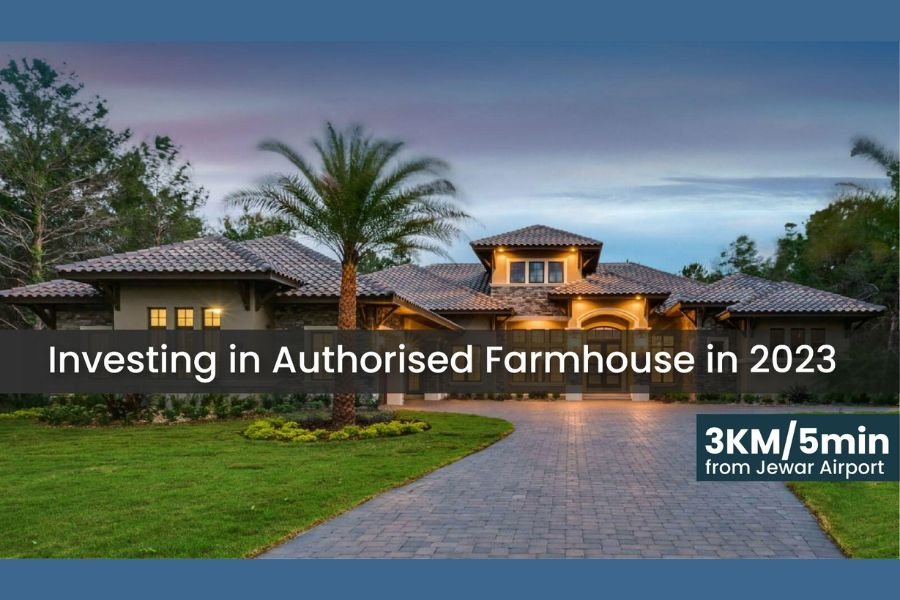 New Delhi (India), January 4: Noida has become the first choice for real estate investors as Noida International Airport, Jewar will become operational in September 2024. Land prices have already started to shoot up. Interestingly, farm houses are currently one of the most sought-after investments in Jewar.
Hundreds of Illegal Farmhouses are buildup in Yamuna Floodplains (Doob Area). The land beyond the Bandh till the Yamuna River is reserved only for agriculture purposes; no construction is allowed here, but people are fooled by various developers.
Any construction without permission from the concerned development authority is illegal, but still, people buy land here for Rs. 6,000 to Rs. 8,000 Per Sq. yard and spend lakhs of rupees on construction and always live in a fear that the concerned development authority will demolish their beloved Farmhouse.
On the other hand, there is farm land that is just 3 Km/ 5 Min distance from the under-construction NOIDA International Airport, where full construction is allowed, may it be is for farmhouse, Industry, Hospital, Resort or anything and that too at just Rs. 5000 Per Sq Yard i.e 2.4 Crore per Acre because this land is in De-control zone of District Palwal, Haryana. You will get NOC for construction from the Town and Country Planning Department, Haryana.
AGF Farms is one of the most trustworthy firms engaged in sales of Authorised farmland near Jewar International Airport. AGF Farms thoroughly studies lands and government policies and provides clients with the best investment plans.
The Government of India and state governments have abolished many illegal farmhouses being built in the NCR in the past few months. The authorities plan to take down more such illegal businesses in the NCR in the coming months.
Engaging in illegal land investment with the real estate mafia can result in massive losses.
AGF Farms' focus remains only on the legal areas for the construction of businesses in Farmhouse land near NOIDA International Airport.
NOIDA International Airport is to be the biggest airport in Asia after the completion of its construction. It will provide an economic benefit to all businesses in the region.
The construction of the airport opens doors of opportunity for realtors looking forward to establishing farmhouses and residential businesses in the NCR region.
Apart from the construction of the NOIDA International Airport, the NOIDA Film City (in Sector 21, NOIDA) and other projects are also under establishment. These constructions, in turn, are likely to generate significant revenue for nearby businesses.
The YEIDA Authority has banned the construction of illegal farmhouses in NOIDA and neighbouring areas. A great investment opportunity lies in the lands of the Palwal district of Haryana. Palwal is only a few minutes' drive from Jewar and therefore becomes beneficial for investors. Palwal has easy transport connectivity to the facilities of NOIDA.
Absolutely no risk of government interference: The farmhouse developments are legal in the concerned area, unlike the illegal businesses that are being abolished in the NCR at present.
AGF Farms offers proper documentation and contracts with the authorities, and hence a secure investment plan will be offered to those interested in making an investment.
It is advisable to discuss with an investment advisor for free on 9999 73 9944 before making an investment decision.  
If you have any objection to this press release content, kindly contact pr.error.rectification@gmail.com to notify us. We will respond and rectify the situation in the next 24 hours.