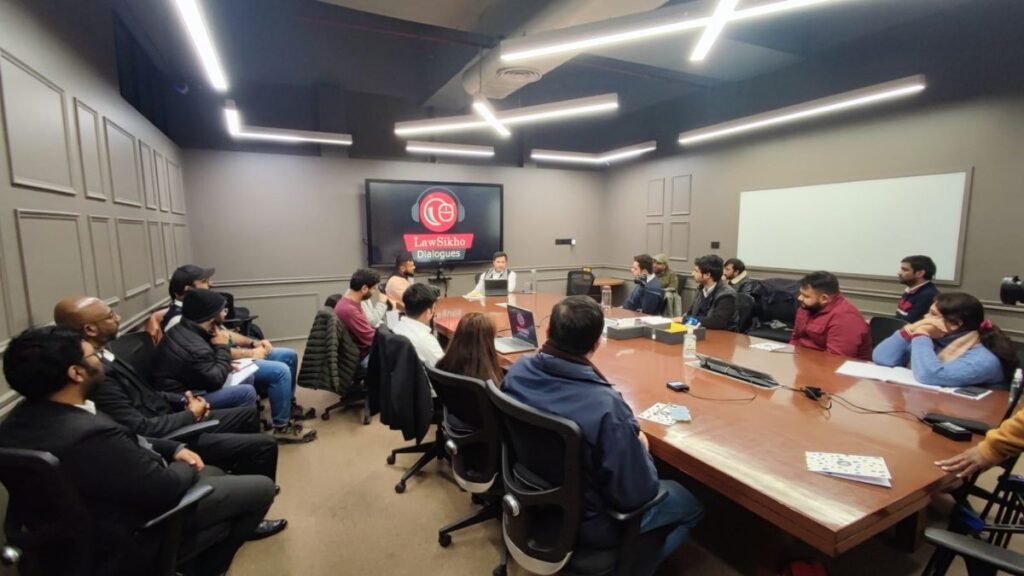 Bishwajit Dubey of 'Forbes Top 100 Individual Lawyers 2021' fame joins LawSikho Dialogue as a guest speaker
New Delhi (India) , January 18: As part of the LawSikho Dialogue initiative, leading edtech brand LawSikho on Friday, January 13, organised an offline meetup to discuss 'Product Liability Laws in India & how the practice is evolving', featuring Bishwajit Dubey, Partner at Cyril Amarchand Mangaldas & Co. (Litigation & Arbitration), as guest speaker.
Dubey has over 18 years of experience in dispute resolution and has been declared Achromic Point Dispute Resolution Lawyer of the Year 2022. He was also ranked among the Forbes Top 100 Individual Lawyers 2021.
In India, legal recourse in cases of product liability is not readily sought by consumers, either because not many consumers are aware of their rights or because the area of product liability laws has been a neglected one.
The regulatory architecture with respect to product liability is at a nascent stage and has a long way to go. Therefore, the more discussion on the subject, the better.
"Product liability arises when the product or service you provide to anyone contains a flaw that may cause harm to the customer. The aggrieved customer can file a claim against the manufacturer, vendor, or service provider. But, for example, let's say a nurse or doctor is supposed to use a syringe or injection, but you begin to use it yourself. When you highlight the associated risks, it becomes a defence," said Bishwajit Dubey during the meetup.
"Nowadays, I see an increase in product liability and consumer-related lawsuits in the market, which presents huge opportunities for lawyers," he added.
In 2019, The Consumer Protection Act for the first-time defined product liability as the "responsibility of a product manufacturer or product seller, of any product or service, to compensate for any harm caused to a consumer by a such defective product manufactured or sold or by a deficiency in services relating thereto".
There is a pressing need for the legal fraternity and other compliance professionals to understand the nuances of product liability so that they can help make manufacturers, wholesalers and retailers legally responsible for defective or unsafe products.
Ramanuj Mukherjee, CEO of, LawSikho, said, "Product liability is a new and emerging area. Its importance is growing, and there is not enough awareness among young lawyers, law students and the general public. So, we hope that with today's event, we have created some awareness of product liability issues.
"Going forward, we hope to reach out to a wider audience to spread awareness about this emerging area of work for lawyers and students."
The event attracted interest from law graduates, lawyers, and other compliance professionals, and over 50 attendees took part in the offline event and interacted with Bishwajit Dubey and Ramanuj Mukherjee.
Every week, LawSikho Dialogue organises offline events as part of LawSikho's engagement initiatives to inform students and legal professionals about the latest developments and guide them to build thriving career paths.
For more information, kindly visit the website: https://lawsikho.com/
About LawSikho
LawSikho is one of India's leading online edtech brands, offering legal and non-legal students and professionals the most advanced courses to help them acquire skills and knowledge that they can bank on to bag the best jobs, crack difficult competitive exams, and serve clients. LawSikho has been featured on well-known platforms like TEDx, The Hindu, The Economic Times, Yahoo! News, The Tribune, and many more. Most of our courses are recognised by the National Skill Development Corporation.
If you have any objection to this press release content, kindly contact pr.error.rectification[at]gmail.com to notify us. We will respond and rectify the situation in the next 24 hours