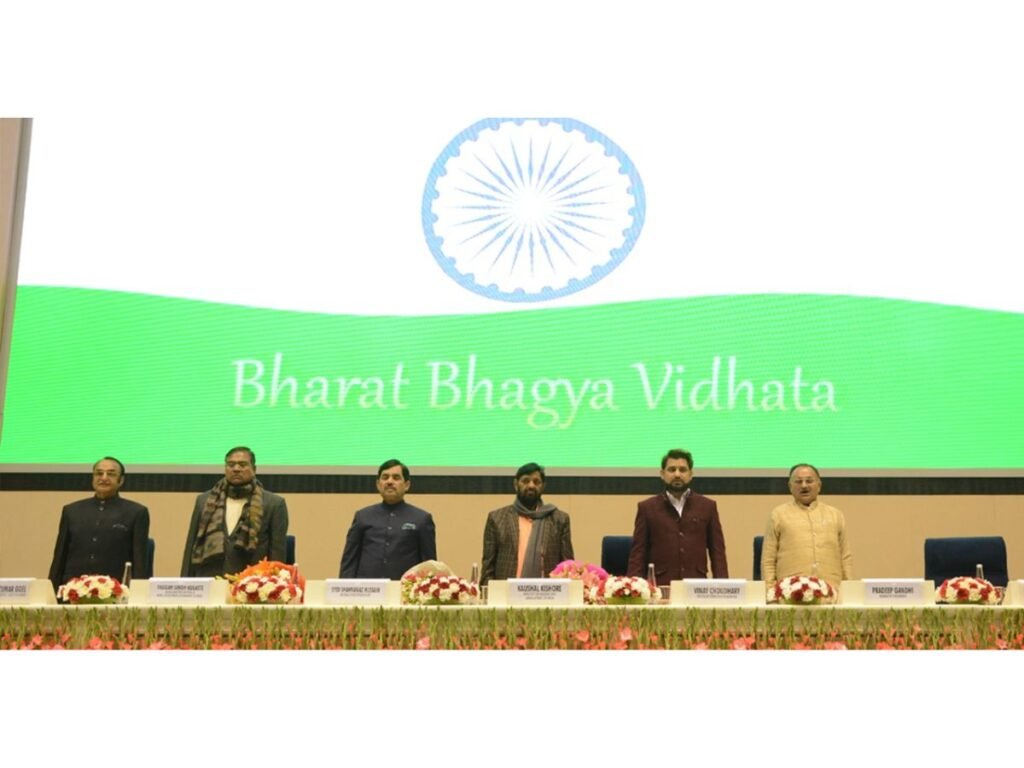 New Delhi (India), January 20: Topgallant Media Pvt. Ltd. organized the Atal Achievement Awards 2022 at Vigyan Bhawan New Delhi. Which was a ceremony to acknowledge and felicitate the leading contributors who have taken the initiative to bring a pleasant and powerful change in the field of Healthcare, Education and Business. Atal Achievement Awards 2022 brought together who's from Healthcare, Education and Business Sector in one place to Discuss, Network on issues that are so pertinent to this Industry. The discussion highlighted the issue related to securing India's health.
Shri. Faggan Singh Kulaste Minister of State for Rural Development, Government of India, Shri. Kaushal Kishore Minister for Housing and Urban Affairs of India, Shri. Syed Shahnawaz Hussain, Former Cabinet Minister, and National Spokesperson from BJP, Dr. Arvind Kumar Goel- Educationist and Philanthropist, Shri Pradeep Gandhi Ji, Member of Parliament were the Chief Guests & Guests Of Honour for the ceremony. The winners were felicitated by them which included Individuals/Organizations from all across India.
Some of the iconic awardees for The Atal Achievement Awards 2022 were as follows:
MR. SUKHDEEP SINGH AASHT, FOUNDER & CEO of CENTRE FOR FINANCIAL INFORMATICS AND LITERACY ​(CFIL)- GLOBAL ENTREPRENEUR IN FINANCIAL LITERACY
DR OM PRAKASH JAIN, PRESIDENT of WCS PVT LTD – TRANSFORMATIONAL ENTREPRENEUR IN SOCIAL WELFARE
DIGITAL APTECH PVT. LTD- MOST PROMISING IT & DIGITAL MARKETING AGENCY OF 2022
MS. YASSMIN MISTRY, MD & CEO OF DURAND FORMS INDIA PVT. LTD.- DYNAMIC WOMEN ENTREPRENEUR OF THE YEAR
MOCO- EMERGING AUTOMATIVE ACCESSORIES BRAND OF THE YEAR
MR. JANARDHAN BABU, MANAGING PARTNER OF JAYALAKSHMI FARMS- LEADING ENTREPRENEUR IN THE FIELD OF DAIRY INDUSTRY
MR SATHYA SHANKAR, CHAIRMAN OF SG CORPORATES- OUTSTANDING LEADER IN RURAL EMPLOYMENT
PANNALAL EXPORTS PVT LTD- MOST PROMISING EXPORT COMPANY IN FOOD GRAIN INDUSTRY
DR AMBRISH PRAFULL VIJAYAKAR, MANAGING DIRECTOR OF PREDICTIVE HOMOEOPATHY- MOST PROMISING LEADER IN THE FIELF OF HOMEOPATHY
Other awardess were –
DR. ANIL KUMAR
J JOSHI INFRA PROJECTS PVT. LTD
RELISYS MEDICAL DEVICES LIMITED
ANKITA OVERSEAS
SPANGLE STEEL PRODUCT
MR. SHASHANK CHAKRAWARTI (WELLNESS FOREVER MEDICARE PRIVATE LIMITED)
MANIPAL UNIVERSITY JAIPUR
HEINRICH CORPORATION INDIA PRIVATE LIMITED
MR. ABDUL MAJEED
LADANI ASSOCIATE
AIRPETS RELOCATION SERVICES PVT. LTD.
AGRI PROCESS INNOVATIONS TECHNOLOGIES LLP
ND CARE NIROGAM (P) LTD
ADITYA GROUP
BOOMING BULLS ACADEMY
COL. DR. SUNIL JAIN
DR. CHANDRASHEKHAR THODUPUNURI
DR. MUKUL SHASTRY (CUBE GROUP)
DAYAWATI MODI ACADEMY
MR. MANISH MISHRA
RUS EDUCATION INDIA PVT LTD
M S METAL & CHEMICAL SUPPLIER
MBNK
KALRA HOSPITAL SRCNC PVT. LTD
MITTAL TUBE COMPANY
YOUR WELLNESS CENTRE
DR. ROOPESH KUMAR
MR. MADHAW ANAND
DR. LIPI SINGH
IYSERT ENERGY RESEARCH PVT. LTD.
TRINITY CORPORATE SUITES
KALPAVRIKSHA LOGITECH SERVICES PVT LTD
IIT PATNA
ADARSH CO-OPERATIVE BANK LTD
BOMBAY METRICS SUPPLY CHAIN LIMITED
ST. MIRA'S COLLEGE FOR GIRLS, PUNE
MR. VAIBHAV PANDE
RAINTECH SOFTWARE LTD
KISHORE CHANDRA PRASAD RESEARCH FOUNDATION
MR. SOUBIR BHATT
MICROTEK COLLEGE OF MANAGEMENT AND TECHNOLOGY
RAMANAND INSTITUTE OF PHARMACY & MANAGEMENT
DR. RAJESH ATULKAR
DR. SANJIB KUMAR BEHERA
DR. P C JAGADEESH
TIRUPATI FOOD INDUSTRIES PVT. LTD.
AKUMS DRUGS & PHARMACEUTICALS LIMITED
BELIEVERS CHURCH MEDICAL COLLEGE HOSPITAL
DR. JAMAL YUSUF
DR. SAIBAL MUKHOPADHYAY
DR MILIND SAMPGAONKAR
DR. SHEKHAR SRIVASTAV
PROF. DR. CHAKRADHAR MADDELA
BEN PHARMACEUTICALS
MR.SHUBHAM SHARMA, Founder & CEO of HEYLIN SPARK for Entrepreneur of The Year
DHINGRA SHOE INTERLINING PVT. LTD.
DR. RIDHIMA KHAMESRA
DR. MOHANLAL PANDA
IMS GHAZIABAD
G- CUBE LMS
FUTURE CHOICE CLUB
MR. BIPIN DAYAL
SCIDENTAI
FOODEES GROUP OF CONSULTANTS
ASHOKA WOMEN'S ENGINEERING COLLEGE
DR. ASHISH GAUTAM
CT UNIVERSITY
DR.PRABHAT KUMAR SRIVASTAVA
LNCT GROUP OF COLLEGES
B R SOFTECH PVT. LTD.
DR. PRAMOD GIRI
KAVYA DIABETES CLINIC
MORLATIS ENGINEERING CONSTRUCTION PVT. LTD.
NUTRIORG
PATHNSITU BIOTECHNOLOGIES
WIDE RANGE GROUP
ELITE LEARNING
MR. AJAYAKUMAR. V.V
MS. CHAHAT AGGARWAL
SAKSHI INTERNATIONAL PVT. LTD.
DR KARTHIK RAMESH (MBA SSSIHL)
FERMENTIS LIFE SCIENCES PVT. LTD.
MR. BHARAT KUMAR RAO
MR. KHARAL SINGH
BIOREX HEALTHCARE
DR. ANJU SHARMA
DADU MEDICAL CENTRE PRIVATE LIMITED
DR. MUSHARRAF AHMAD KHAN (CHAIRMAN) AL KHATEEB POLYTECHNIC COLLEGE
DR CHANDRASHEKHAR PAKHMODE
DR. SRIDEV SHASTRI
DR. PAVAN KUMAR
MR. JAIDEEP PAWAR-(GRAMEPAY & PAY10)
VMAX E-SOLUTIONS INDIA PVT. LTD.
MS. SHIKHA MAHAJAN
S S SYSTEMS PVT LTD
CITA IMMIGRATION
MR. AJAY KAMATH
DR. HUKUM SINGH
GAUTAM AND COMPANY
AROGYADHAM PILES FISTULA HOSPITAL PANCHKULA
SMART VEHICLE ROBOTICS
VARSHNEY INFOTECH PVT. LTD.
M/S SAMRVIR BIOTECH PVT LTD
MR. PRAMOD TRIPATHI
IASSIST INNOVATIONS LABS
KARAM LASER CLINIC
KATARIA INDUSTRIES PVT LTD
LAKSHMI NORTH EAST SOLUTIONS (LNES)
DR. CA. D. SURESH KUMAR
MV INTERNATIONAL SCHOOL
DR VIPIN GUPTA
HORIZON VENTURES
DR BALAKRISHNA SRINIVAS MADDODI (ASSOCIATE PROFESSOR MIT-MANIPAL MAHE)
DR. RITU DEWAN
OPIANT TECHNOLOGIES PVT. LTD.
RURAL INSTITUTE FOR SKILL EMPOWERMENT (RISE)
NUTRAFERON PVT LTD
ONESOURCE KARMA YOGA PVT LTD
 Karun Singh (CEO) of Topnotch Foundation & Topgallant Media said that the winners have exemplified excellence amongst their peers in the Business / Healthcare / Education sector. Almost all the winners scored extremely well in our research study due to their dedication towards excellence, dedication, innovation and best ethical practices. By competing with the very best from their sector, winners know that their work has been evaluated by the sharpest minds in the sector, and that their services and contributions have truly excelled. These awards intend to inspire others towards big achievements.
If you have any objection to this press release content, kindly contact pr.error.rectification@gmail.com to notify us. We will respond and rectify the situation in the next 24 hours.